Denmark produced one third of its electricity from the wind in 2013. In no other country has wind's share of annual electricity generation yet topped 30%. But the Danes are not stopping there – they are eyeing a goal of 50% wind by 2020, with most of the needed expansion coming from offshore wind farms. Recent experience shows that Denmark's grid can accommodate this much wind power and more: wind-generated electricity exceeded 100 percent of demand the evening of November 3, 2013.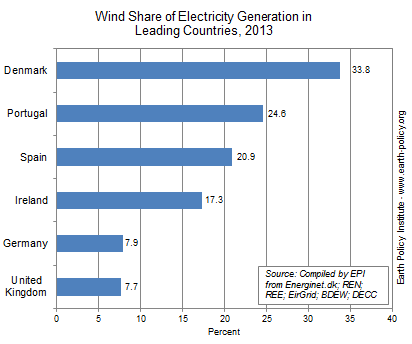 In Portugal, wind farms produced nearly a quarter of the country's electricity in 2013. The situation was similar in neighboring Spain, where wind power accounted for 21% of electricity output, just shy of nuclear power, the leading source at 22%.
More than 17% of Ireland's power generation in 2013 came from wind farms. Over the course of the year, the wind share frequently went above 50%, peaking at 59% on September 16th, according to grid operator EirGrid.
And in both Germany and the United Kingdom, countries with a combined population of 145 million, wind contributed nearly 8% of electricity generation in 2013. Four states in northern Germany get half or more of their electricity from wind. As impressive as these figures are for Europe's two largest economies, what is really astounding is that each country has enough potential wind generating capacity to be 100% wind-powered.
What's more, so do the world's other leading carbon emitters. This includes, of course, the United States, where wind farms currently supply 4 percent of national electricity. Iowa and South Dakota lead the way at the state level, each generating more than 25% of their electricity from wind as of 2013. And in China, wind power –despite accounting for less than 3% of electricity generation – recently overtook nuclear to become the country's third largest power source after coal and hydropower. With a generation potential that is more than 10 times current demand, wind may one day become China's leading electricity source.
—  J. Matthew Roney, staff researcher, from the Earth Policy Institute.
 For more information, see Earth Policy Institute's latest Wind Indicator, at www.earth-policy.org.